Post by ajk on Jan 30, 2022 3:28:53 GMT -5
A lot of very good stuff in this one, and only a couple of stinkers. For a transition episode it was terrific.
■ Relocation of the capital...Six months after Wang Guhn took the crown from Goongyae and founded Koryo in January of 919, Wang Guhn moves the state capital to his home town Song-ak. There remained in Song-ak a royal palace built for Goongyae by Wang Guhn many years back. Upon Wang Guhn's return, Song-ak would be called Song-do or Gae-kyung. At last Goongyae's Taebong era of 22 years comes to an end, and Koryo era of 500 years begins. The first six months of Wang Guhn's reign were extremely turbulent and eventful. Rebellions sprung up far and near, and some bordering cities turned their backs and surrendered themselves to Bekjae. One particular loss was Ungju where over ten villages passed into the hands of Bekjae when General Lee Honnam left his post in rebellion. But Wang Guhn survived these adversities with grace and wisdom by humbling himself and collaborating with powerful local officials rather than ruling over them. And he held fast to Goongyae's Northward Expansion Policy. Immediately upon enthronement, he declared the importance of Pyongyang by titling it "Sister Capital", and began the work of reviving the old capital of Koguryo by populating the long-abandoned city with neighboring villagers. Once things started to settle down, he relocated the capital to Song-ak.
What a wonderful opening this was. They went to a lot of effort to stage the trip from Chulwon to Song-ak/Gaegyeong—a LOT of effort. All just for the narrated text. And the assembly that followed looked great too. We didn't really need to see any of this, except maybe a little bit just to show that the capital had officially moved. It's amazing how much this series invested in these narrations and transitions and how well they turned out.
And even though we didn't need it, it did help to have a long sequence to definitively put the silliness from the previous few episodes behind us. A relief that we've cleared the decks and will move forward now. (Except where the heck is Buyong and when will we see her again.)
■ Honoring of ancestors was a common practice for a new king. But it was [because of] Wang Guhn's desire to honor Master Dosun and many other monks who helped him to the throne that he built ten temples around the city. Another reason was to display his regard for Buddhism since it was the prevailing religion of the Later Three Kingdoms.
Common practice, okay fair enough, but the very first thing WG does in the new capital? With so many things that need doing, it felt self-serving to do this first. It could have waited. (But I say that as a modern-day Westerner and obviously things were different there and then.)
WG: "There are other matters that need our attention." Gee, ya think?
Doyoung on Suin: "She looks harmless but she is very ambitious." And in the next sentence Doyoung is talking about "when I become the empress." Ugh.
"You and I are writing history together. Let us work with faith and confidence." If this is really the way that WG ruled, it's very interesting and it definitely explains the success that he had. He has a lot of very good people around them—even spinning them favorably for the sake of the series, you take that away and it's a strong group. And he doesn't browbeat them. Has the right touch, doing a good job of leading them.
But uh-oh two black marks in that scene. One, it's obvious that WG's drinking cup is empty. This will drive me to the loony bin yet. The other is a continuity error. In episode 24 we learn that Yu Geumpil is from Shinchun. But in this scene he says he's happy to go to Pyongyang because it's his hometown! This is remarkable only because it's so rare—I can't think of any other single instance of the series stepping on a prior fact like this and it's been 132 episodes. Amazing work.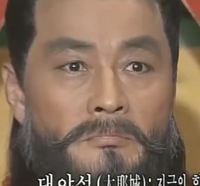 "Daeya Fort?"
Well that got his attention!
"I cannot let Sangju remain a neutral territory as long as my father is not there." That's a good piece of news to learn, was wondering about it. So Ahjagae did not simply hand over the land to Koryo when he moved there. Yet another excellent scene in the Bekjae council.
■ 54th king of Shilla King Kyungmyung....He had ascended to the throne two years prior and had tried in vain to revive the declining state by offering tribute to Later Tang of China. Under threat of attack from Bekjae, he ends up seeking aid from Wang Guhn. Sending an envoy to Koryo meant accepting the legitimacy of the state they had cast off as rebels. This was a sign that Shilla was near its end. Evil omens foretelling the fall of Shilla are recorded in Chronicles of the Three Kingdoms like this: "On the 15th day of sexagenary cycle in the 5th year of Jungmyung Era during King Kyungmyung's reign, a dog in the painting of the Four Devas suddenly barked. The evil spirit was chased away with three days of chanting, but the dog barked again less than half a day later. And on the 17th day of sexagenary cycle in the 7th year, shadow of Hwangryung Temple Tower was cast upside down on the Golden Snake Pond for a month. And in the same year in October, the bowstrings of gods in the Four Devas Temple suddenly snapped, and the dog leaped out of the all painting into the garden and went back in." These were dark overtures to nearing doom.
"You have a point. Though we may be a nation of a thousand years, we've been reduced to the smallest of the Three Kingdoms." Shilla stuff! Yay! Been hoping for some of this; hope we get more. Seems inevitable at this point in the story, fingers crossed.
The start of the military drills we saw in Bekjae was bad. Soldiers running from opposite directions and not one of them bumps into each other...and then the cavalry charges in from a perpendicular direction. Very phony, obviously staged to look good through a TV camera. Surprising that nobody thought the better of it and found a different way. Wasted effort there.
Bekjae envoy: "I believe it is inappropriate for Koryo to remark on what is between Bekjae and Shilla. Deign to see, your majesty." Oh I liked that! Diplomatic trash-talking back and forth, that was fun. Trash-talking is almost always a weak spot in these historicals but that was very enjoyable.
■ Court maids...No records were found that describe the royal court at this time. But Wang Guhn begins to take in many wives from this time on. Later records account for as many as 29 wives with 25 sons and 9 daughters. Many were marriages of convenience to appease wealthy and powerful clans, but some were chosen among the ladies of the court. The stories of his wives are omitted in this drama, as they do not pertain to the main plot.
If only! The whole time we see Doyoung looking at the newbies with that jealous, suspicious sourpuss look on her face. I'd rather they had told a few more of the stories of the other wives rather than give so much time to Doyoung.
Hmmm...has Oh Darin crossed over to the dark side on this heir-to-the-throne question? He's such a terrific character, it would be a shame. I think he's just being a concerned grandpa...but I hate the idea of him diving into the mire over succession.
■ And henceforth Neungsan is called Shin Seungkyum, the originator of the Shin Clan of Pyungsan. The land he received at the tie would be named Kungwejun, and is still occupied by his descendants. Perhaps this was his reason. Shin Seungkyum would later die for Wang Guhn at the battle of Daeju in his final display of loyalty.
"Which wing should I target, brother?" You can see what they were trying to do here, come up with a nice story to make sure they include this side bit of the history of the time. Good intentions, no question. But for goodness sake at least make it more realistic. Those geese were already moving out of range when we first saw them, and it wasn't until 70 seconds later that Neungsan fired the arrow. Sorry but that is not possible. Dumb, dumb, dumb. And WG makes up that name and gives it to him right then and there, not even a few minutes to mull over the possibilities? That didn't work either, not natural at all. And then they end the episode with a spoiler? BOOOOOO! Yes it's a historical fact but there's nothing to be gained by telling us that at that moment. This isn't the first time they've done that and it's aggravating.
But overall a much, much better episode than the previous few.