Post by ajk on Sept 8, 2019 1:30:05 GMT -5
In QSD we saw a fourteen-sided die that was used for drinking games in Shilla's later years. It just turned up here too, in Episode 7. The die is called a juryeonggu and it's unusual because the sides aren't all the same. We're used to dice that are cubes, and some games have the twelve-sided dodecahedron dice where every side is a pentagon. Both of those are classically perfect solids because the faces and angles are all the same. The juryeonggu, it's not like that at all: it has eight hexagonal sides and six square sides.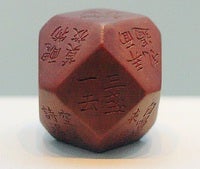 The appeal of the cube and dodecahedron dice is that they're perfectly random. Every side has a perfectly equal chance of coming up. But surprisingly the juryeonggu probabilities are very nearly equal too, despite its irregular form. You wouldn't expect that from looking at the thing but it's true.
Apparently the name of the thing basically translates to "liquor" "command" "tool" (can somebody confirm that?). Here's what's on the fourteen sides:
• Sam-jan-il-geo (三盞一去) : Drinking three glasses of liquor at one time
• Jung-in-ta-bi (衆人打鼻) : Having one's nose struck by many companions
• Ja-chang-ja-eum (自唱自飮) : Singing and drinking all on one's own
• Eum-jin-dae-so (飮盡大笑) : Finishing an entire cup and laughing loudly
• Geum-seong-jak-mu (禁聲作舞) : Dancing alone, with no music
• Yu-beom-gong-gwa (有犯空過) : Staying still without flinching, even when being charged at
• Nong-myeon-gong-gwa (弄面孔過) : Staying still without flinching, even when one's face is tickled
• Gok-bi-jeuk-jin (曲臂則盡) : Finishing an entire cup while interlocking arms with a companion
• Chu-mul-mak-bang (醜物莫放) : Drinking from a cup without removing something dirty from it (presumably placed there by a companion)
• Weol-gyeong-il-gok (月鏡一曲) : Singing the song "Weolgyeong"
• Gong-yeong-si-gwa(空詠詩過) : Reciting a poem
• Im-eui-cheong-ga (任意請歌) : Asking a companion to sing a song of one's choice
• Ja-chang-Goe-rae-man (自唱怪來晩) : Singing the song "Goeraeman"
• Yang-jan-jeuk-bang (兩盞則放) : When you receive two cups, drain them immediately
Here's a nice web page with information about the thing:
gyeongjulove.blogspot.com/2011/06/casting-14-sided-juryeonggu-anapji.html?showComment=1567922334716#c6099530395277666316
The above photo and text list are from that page. And if you want the hardcore mathematical specifics, go here:
www.numericana.com/answer/dice.htm#korean
Obviously this won't be a big part of the series but I thought it would be worthwhile to have some good information about it here in the forum.