Post by jewel on Sept 24, 2014 18:48:50 GMT -5
Episode 8:
Okay. This episode really had my heart pumping, for sure. Very exciting and overall very good. But again I had problems with some parts. I'm starting to really dislike Se Ryeong for all the trouble she's causing by keeping her identity a secret. It's like enough already, will you just SPILL IT?

I mean, what, now we find out one can be beheaded for seeing a palace maid??? Are these
hidden
laws or do most people know about it?? It is soooo frustrating.
THEN, when you escape from captivity JUST to tell someone something "life-and-death" important, don't you just tell him as soon as you see him?? How hard is it for Se Ryeong to say to Seung Yu's father, "Please don't see my father the grand prince Su Yang tonight. It's a matter of life and death"?? No, instead she says, "I have something to tell you." Why can't K drama people ever talk without having to sit at a table with a cup of tea in front of them? I mean as soon as she said that, I knew it was "game over" for everyone. And sure enough her servants came and dragged her away before she could say another word.
THEN, when she's being taken away and she sees Seung Yu through the window of her wagon or litter or whatever, she calls out feebly, "Teacher!" I was like oh my god, can you yell a little louder??? I was ready to smack her upside the head, she was so frustrating!!! I came away from that scene just absolutely disgusted with her. Honestly.
And then when Gim Jong Seo gets whacked on the head with the mace, the older son comes rushing into the room screaming out for his father. He totally ignores the two people in the room who are his MORTAL ENEMIES!! Come ON now - REALLY?? Even I, who know nothing about fighting, know not to rush into a room and turn my back on the people who are there to kill off my whole family!!!! It almost brought tears to my eyes because it just took away from my appreciation of the whole scene.
Again other than those scenes, I really enjoyed the episode.

On a lighter note, how is this woman able to walk around with this THING on her head???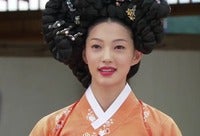 It boggles the mind, huh???