Post by seanmaclair on May 23, 2021 22:22:30 GMT -5
Mostly referencing this page: m.blog.naver.com/siffler/221464430472


After the success of hit daily drama
My Lady (1970)
, TBC was looking for a way to win ratings over competing networks' more popular daily dramas. MBC was already gaining ground with historicals like
Jang Hee Bin (1971)
and
Prince Regent (1972)
, while KBS was in the works with
Yeoro (1972)
. So they decided to adapt Woltan Park Jong Hwa's "The Bloodstained Jacket" and in August 1972, began broadcasting
Samogok
(思母曲, the hanja's important here), meaning "Longing for my Mother," or something along those lines, not to be confused with KBS' 1987 daily Song of Yearning (思慕曲). Park Jong Hwa's "The Bloodstained Jacket" had previously been adapted in the famous pair of movies, Prince Yeonsan (1961) and Tyrant Yeonsan (1962).
Broadcast date: August 27th, 1972 - June 29th, 1973
The show lasted for 264 episodes, the longest season of what would eventually be a near-decade long series covering various tales of Joseon women: the 500-Year History of the Lee Dynasty's Women series. Broadcasting from Sunday to Friday at 7:40 PM for 20 minutes an episode (I believe it changed to Monday~Saturday later on), this is supposedly writer Shin Bong Seung's first historical drama (he would later write for 500 Years of Joseon in the 80s, along with a few other dramas both before and after.), covering Prince Yeonsan's story in two parts: the first being his agony in searching for his truth about his mother, and the 2nd being his revenge and descent into tyranny. Director Kim Jae Hyeong, famous for shows like West Palace, Ladies in the Palace and the King's Woman, also worked on this show and subsequent seasons.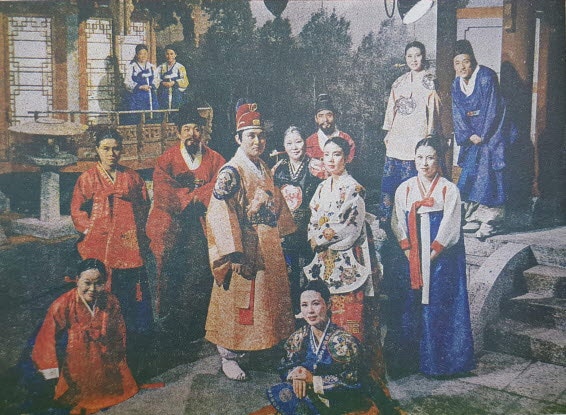 Cast (not listed to match the picture but i'll indicate if anyone i'm sure of is in there):
Lee Muk Won as King Seongjong
Kim Se Yun as Prince Yeonsan (in the gold dragon robe)
Yun Jeong Hee as Jang Nok Su (floral white dangui with red skirt)
Hwang Jeong Sun as Queen Insu (in black, behind Yeonsan)
Seo Seung Hyeon as Queen Jeonghee
Go Eun Ah as Deposed Queen Yun
Yeo Un Gye as Lady Shin (Queen Yun's mother)
Seo Woo Rim as Queen Shin (Yeonsan's Queen, in blue on the floor i think)
Kim In Mun as Kim Cheo Seon
Seonwoo Yongnyeo as Jeong Gwi In
Kim Chang Suk as Eom So Yong

The show had two theme songs, one for Part 1 and the other for Part 2. Both were named after the show, but one was sung by Lee Mija, the other by Lee Sumi.

Part 1's theme song:

Lyrics:
Your Majesty, Your Majesty, the Crown Prince cried last night.
He shook like the wind as he cried.
The stars have all left the faraway sky, as if afraid of being lonely.
He sings a song of longing for his mother, and he cries.

Mother, Mother, the flowers are falling from the rain last night.
Tonight, the cold will bring frost,
But I'll embrace the moonlight with a sigh,
Singing a broken-hearted song of longing for you.

Part 2's theme song:

Lyrics:
Deep in the manifold Palace, the resentful incidents
Soak me again and again, in last night's wind and rain.
I scatter my tears of blood on a silken jacket.
Oh mother, sleeping on the way to your rightful tomb,
This heart fills as I sing a song of longing for you.

I'll put the plot on a separate reply.