Post by ajk on Dec 1, 2019 1:20:35 GMT -5
Well this one started off about as weird as the last one ended. Enough said.
I wonder if that was really the Goongyae actor pounding away in that field during that long scene with Yangil. Whoever it was, his head was down...which sort of suggests it wasn't him.
Yeah we all know, monks and their vow of poverty, but still Goongyae shouldn't have turned down the robe that Mihyang made for him. He could at least wear it while his regular one is being washed, right? Hardly think that having a spare robe would break his vow of poverty, especially for someone in a leadership role who should look (and smell!) presentable. Some of these monks are just not very nice people sometimes.
"The next opportunity? When would that be? I'm over 60 years old. Do you not want me to become a king?" Interesting...if he were twenty years younger would he be as willing to roll the dice on Goongyae? Succession has been on his mind ever since he meet Goongyae.
Just one narrated text this time:
Yangil...He once had more than thirty counties under his rule, dominating the central region of Shilla. And Goongyae was his subject. Yangil was indeed a powerful man, but he does not make it onto the lineup of great heroes. He gave Goongyae his army to conquer Myungju, only to end up strengthening Goongyae's power and parting with him later. It was a difference in capacity. Goongyae was no match for small-minded Yangil. Seeking revenge for Goongyae's betrayal, Yangil attacks Goongyae two different times, but dies in wrath with no avail. Yangil paved the way for Goongyae, and Goongyae advanced. This was the end for these two men.
"Do you really think he will remain that way once he establishes his own kingdom and becomes a king?" Again Bok Jikyum seeing right through the whole thing and nobody listening to him; you sort of have to feel sorry for him. (By the way, the guy playing Bok Jikyum was King Bojang in DJY and King Shinmu in EOS. One of those actors you recognize but can't exactly place; had to look him up.)
That little interlude with WG staring at the creek while Dosun's voice babbles at him, very annoying. What the heck was he talking about?
Oh good, and now we get another one. And apparently Dosun is communicating with him telepathically. This whole supernatural-monk thing is a weak point, to put it mildly. The early episodes of Shin Don had some of the same stuff going on and it didn't work there either, but at least there they had the good sense to get rid of it pretty quickly.
Old monk: "Master? That's applesauce." What an odd line. Is that an old Korean expression of some sort? And he's kind of annoying character in a crotchety sort of way...but how can you not like the way he shoots from the hip: "You certainly exploit Buddha's name to the fullest. Stop deceiving the people, and just say you want to be a king. At least Kyun-hwon is honest. He artlessly declared himself a king." No filter on him, is there. Everyone in these historicals is always so proper and sometimes reticent to speak the truth. Hope he sticks around.
Heads on a rack, how about that!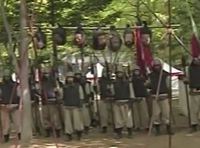 "One pardon can beget ten crimes." That started out as an excellent scene; the Utopian ideal meeting grim reality...but wait a minute, all of a sudden they're low on food? Where did this come from? Shouldn't Yangil be able to feed his own army? Maybe there's an explanation for it, like they're getting flooded with refugees from drought...but the whole thing felt like an ambush—uncharacteristically sloppy piece of writing. Maybe it will be fleshed out in the next episode.
But seriously, who doesn't love heads on a rack.