Post by Knov1 on Feb 7, 2019 19:16:41 GMT -5
MBC My Secret Terrius (aka Terius Behind Me)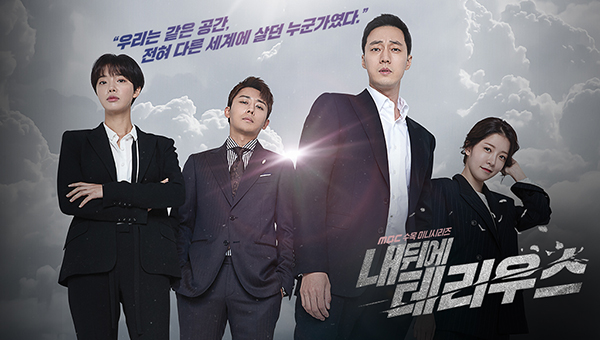 official site:
www.imbc.com/broad/tv/drama/mysecretterrius/
kocowa:
www.kocowa.com/series/my-secret-terrius/1106633
trailer 1:
www.youtube.com/watch?v=dQTlT2L0PD0
trailer 2:
www.youtube.com/watch?v=R9Bzt9-R-dQ
genre: romance comedy mystery
length: 32 episodes (30 mins each)
cast: So Ji Sub, Jung In Sun, Son Ho Jun, Im Se Mi, Kim Sung Joo
description: After losing her husband, something strange happens to the single mother of two children. One day, a mysterious man moves in next door. He's good-looking, appears cold but warm-hearted, and is a former NIS agent who has been trained to execute dangerous missions. As if it was destiny, the two who are different, yet similar to each other become involved in a series of suspicious activities.
---------------
I just finished watching My Secret Terrius. I liked Bon and Ae Rin. I liked Bon's interactions with the kids. I liked the Ae Rin's neighbors and KIS. You got hints of romance between Bon and Ae Rin but series is more about getting justice for the people they've lost. So Ji Sub in any series is always a plus for me but My Secret Terrius is not a SJS drama I would recommend to others.
The spy/secret agent stuff was kinda silly. It's like they wanted to make a spy series but didn't know how so they threw a bunch of stuff in there without much thought. For example, there was no need for the killer to kidnap Ae Rin's kids. It helped showcase KIS and Bon learned of the killer's involvement but made no sense from the bad guy's perspective. Also, the Bon and Ae Rin connection was established early by NIS and yet it takes them nearly the entire series to figure out Bon lives across the hall. According to NIS, Bon went off the grid but didn't seem like he was trying to hide all that much. You can't have a So Ji Sub drama without a near death experience. There's 4 of them in the series.
My Secret Terrius could have easily been about a single mother and the guy across the hall who babysits her kids without the secret agent stuff. That would have probably made it more enjoyable.